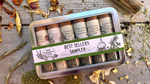 Packed with dried mushrooms, herbs, and roasted garlic, Enchanted Forest Dust will up the umami factor of anything it touches, but we're partial to using it on steaks, chops, and creamy pastas.
Use Magic Garlic Dust whenever and wherever you desire a dose of savory depth and garlicky goodness. It's right at home in
soups
,
dips
, and dressings and would make a fantastic addition to homemade crackers or nut mixes.

Our Spice of Life Seasoning is herby, tangy, and nutty all the same time, thanks to the addition of toasted hemp hearts, sundried tomatoes, and balsamic vinegar. Sprinkle some over olive oil for the easiest-ever bread dip, or use it on pork chops, in grain salads, or mixed into breakfast potatoes.
Wild greens, red onion, sumac, and tons of herbs make up our Wild Green Goddess Seasoning, which we love working into creamy
dips
,
soups
,
salads
, and
homemade crackers
.
Using our Rosemary Basil Sea Salt in place of regular ol' salt in vinaigrettes, sautéed greens, or even
mac and cheese
will give your dish an instant flavor boost!

Wild-harvested ramps and roasted garlic bring big-time flavor to our Wild Ramp and Roasted Garlic Sea Salt. Use it to season salmon or chicken before roasting, sprinkle it onto egg dishes, or stir it into steamed rice.